---
The Camp Chef Everest 2 Burner Camping Stove is a high-performance camping stove with impressive cooking power and an integrated matchless ignition system.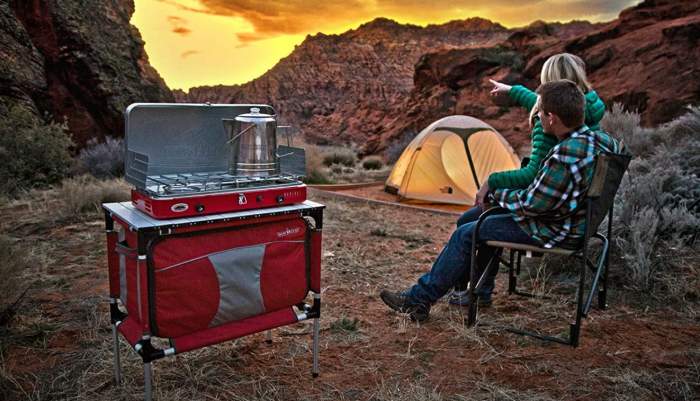 ---
Key features & benefits
Huge burning power.
Nicely folding.
Steel body.
Windscreen.
Integrated matchless ignition.
---
Overview
This Camp Chef Everest 2 Burner Stove has been around for more than a decade already, tried and tested by many users in the past. The stove comes in a thin and compact steel box shown in the picture below, its dimensions when closed are 23.5 x 13.5 x 4.25 inches (60 x 34 x 11 cm).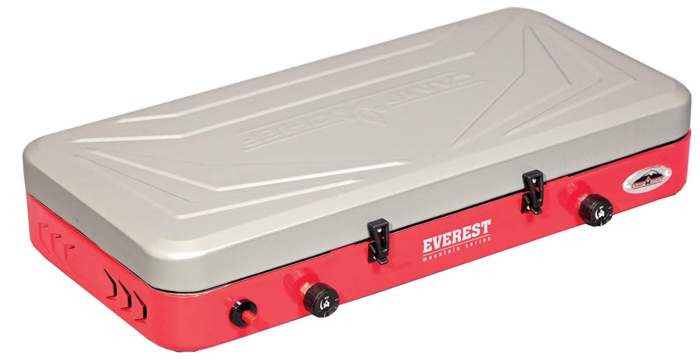 Note that it is less bulky than the Coleman Hyperflame Fyresergeant 2 Burner 3-IN-1 Propane Stove, just to know if the size is your concern.
The lid doubles as a great windscreen shown below, and it has two separate folding pieces on the sides that serve the same purpose. Having such features is essential when you are forced to cook in a windy place, so with such a design, the stove will work fine even in windy conditions.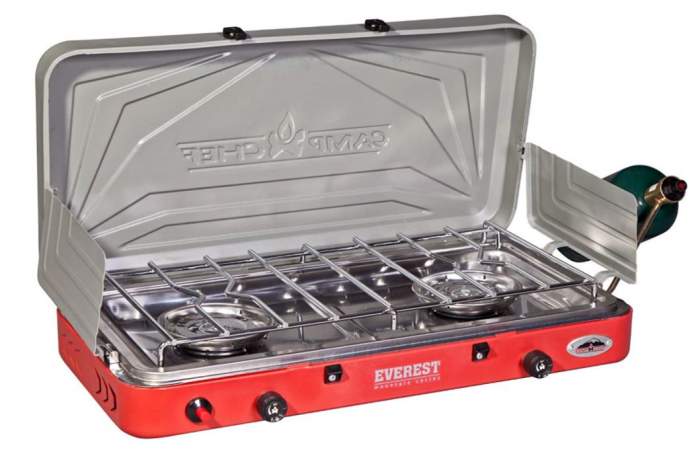 The height with the lid open as in the picture above is around 14.5 inches (37 cm). The cooking area is large enough to use two pots at the same time with 12 inches diameter each.
Burning power & performance
This stove comes with two burners with 20000 BTUs each, so this is very impressive. If you are new to this, you can compare this value with some other 2-burner camping stoves that are on the market. You will realize that not many can match this.
The mentioned windscreens even more improve its performance. Note that the stove also offers excellent simmering feature.
As for its ease of use, there is not much one could object here. Though I have seen some people complaining about connecting the fuel-adapter with the inner-threads.
The cooking surface is a stainless steel drip pan and you can clean it easily after lifting the grate visible in the picture above. You also do not have to worry about matches, the picture below shows its matchless ignition knob.
On uneven surface it is great to have adjustable legs as the one shown below.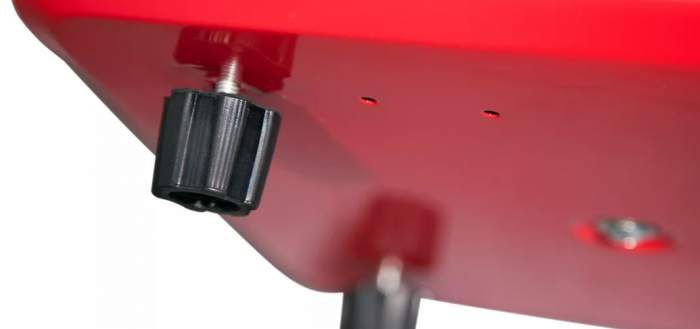 The stove works with standard propane camping bottles, but you can also order an adapter and use it with a larger propane tanks.
Regarding the weight, with its 12 lb (5.44 kg) this stove is almost half the weight of the Coleman Hyperflame Fyresergeant 2 Burner 3-IN-1 Propane Stove. Note that it is almost the same weight as the Eureka Ignite Plus Stove.
---
Specifications
Weight: 12 lb (5.44 kg).
Burners: 2.
Total power: 40000 BTU/h.
Dimensions: 23.5 x 13.5 x 4.25 in (60 x 34 x 11 cm).
Height when open: 14.5 in (37 cm).
Distance between burners: 12 in (30 cm).
Warranty: one year.
---
Final thoughts, rating, pros & cons
So this Camp Chef Everest 2 Burner Camping Stove comes with a high BTU value, it includes useful wind resistance features and a large cooking area. It is easy to use, reliable, lightweight, and compact. I have included it in my list of best 2 burner camping stoves.
Please see how I rate this stove. I use the same criteria for all of them here in the site, so you can easily compare.
BEST PLACEs TO BUY regarding shipping and price:
You might want to bookmark this site and visit it occasionally because I add texts here regularly and this will keep you informed. Let me know if you have questions, there is a comment box below. Thank you for reading.