---
If you plan climbing Skrlatica (Škrlatica, 2740 m, 8989 ft) in the Slovenian Alps, here you have a first-hand report about my our. So keep reading.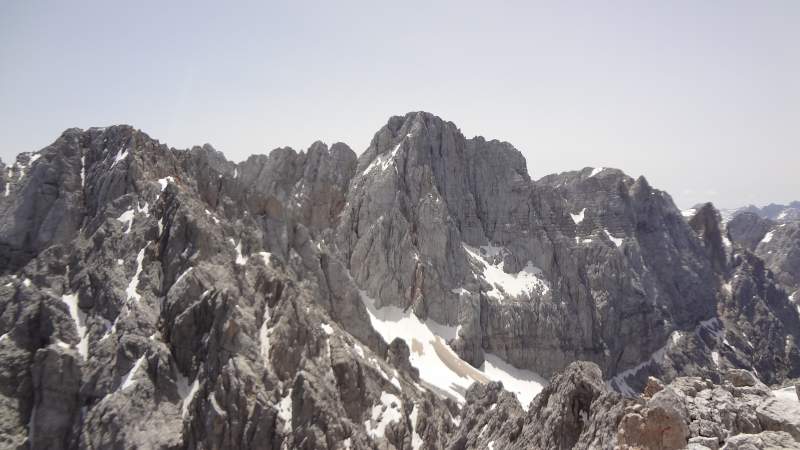 ---
Basic data
Elevation: 8989 ft (2740 m).
Coordinates (Lat/Lon): 46.43227°N / 13.82136°E.
Normal route type: a combination of a walk up, scramble, and ferrata.
Nearest hut/shelter:
– Bivak IV (Bivak na Rušju), a basic shelter.
– Aljazev Dom (Vrata valley), a real mountain hut.
---
What this is about
With its 2740 meters (8989 ft), Škrlatica is the second highest mountain in the Slovenian Alps, only Triglav is higher. So it is higher than their famous Jalovec which I climbed a few years ago. These mountains in general may not look so high when you compare them with the other parts of the Alps, but they are steep and valleys are low so you have very hard tours.
There is only one normal route to the summit, but there are a few options where to start from the surrounding valleys. All of them converge to one final summit route. I have walked most of them partly or completely. The map below shows the position of Skrlatica with respect to Vrata valley, and some other peaks around.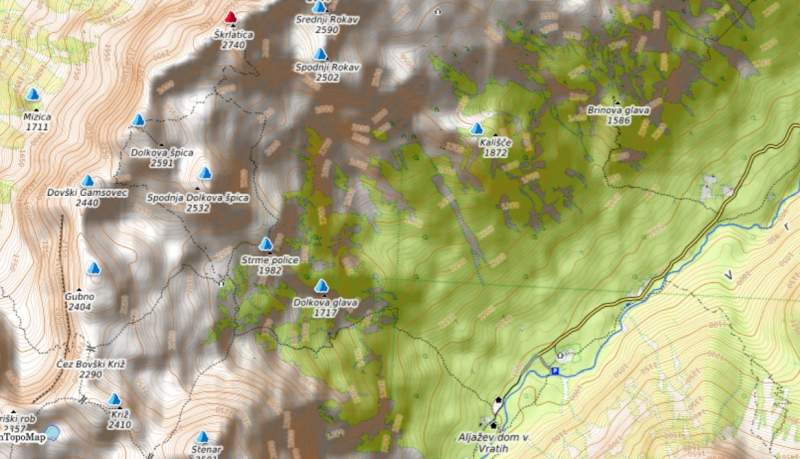 ---
Access road(s)
It is best to zoom in and out the Google map which I prepared here for you, so you can easily realize where Skrlatica is and how to get there. The nearest town for supplies is Kranjska Gora. What you may not realize from the map is the fact that all this area is of exceptional natural beauty, and you have the Italian and Austrian borders at a stone's throw.
To climb Skrlatica by following the normal route, the fastest and most convenient is the starting point at Aljaz hut in the Vrata valley. This is because this is a relatively high point at an elevation of around 1015 m (3330 ft). Note that the road is with 25% inclination, and I do not remember any other in the Alps that would match it. It is mostly macadam, and asphalt is at the steepest sections.
There is a paid parking at the end of the road, 3.5 Euro per day for a car in 2021. You can get here also with your motorhome, the road is good enough and wide enough for such vehicles. I have seen even busses getting there.
---
Single-day or two days climb?
It is possible to climb Skrlatica in one day from Aljaz hut. The elevation difference is around 1740 meters (5709 ft). I have climbed the nearby Triglav twice that way, and it is higher.
How much time? Well, at Aljaz hut you will see the sign that tells you 6 hours to the summit, see the picture below. This may be so for Slovenians, but for other humans, you should add a couple of hours here. I have learned that Slovenians are quite economic with the climbing time they attribute to various tours.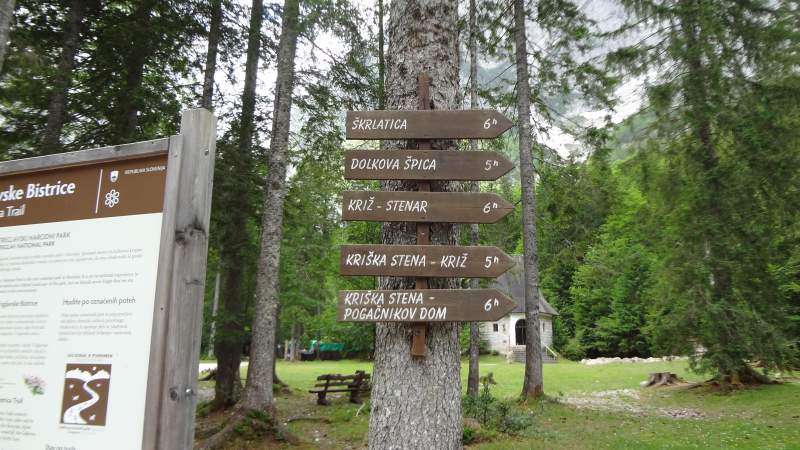 But you can also do it in two days. There is a shelter at 1980 meters (6496 ft) of elevation (Bivak IV, or Bivak na Rusju). It is always open, with no guardian. There are places for 6-8 people, just simple wood platforms. There are a few blankets, but it is best to take your sleeping bag, a sleeping pad, and an inflatable pillow with you.
This is the only shelter (out of 4) that is for ordinary mortals, the other 3 that are around the summit are for true alpinists.
As mentioned, the shelter is very basic, but I spent the night there, and I had a storm of such intensity that this was probably the strongest I have experienced anywhere in the mountains. So I was very much able to appreciate its presence and the protection it offered.
The only issue there is the outside steel door that cannot be locked from the inside. So the wind was slamming it and the water was getting in. It was necessary to improvise with an ice axe to keep it closed. I hope that those who take care of it might notice this and do something.
So as you see, contrary to its neighbor Triglav that has numerous huts on all sides, there are no convenient huts for Skrlatica tours. This Bivak IV is the only option. This is why Skrlatica is far less visited than the other mountains around.
If you are one of those who complain about too much crowd in the mountains, here is one where you might be almost alone.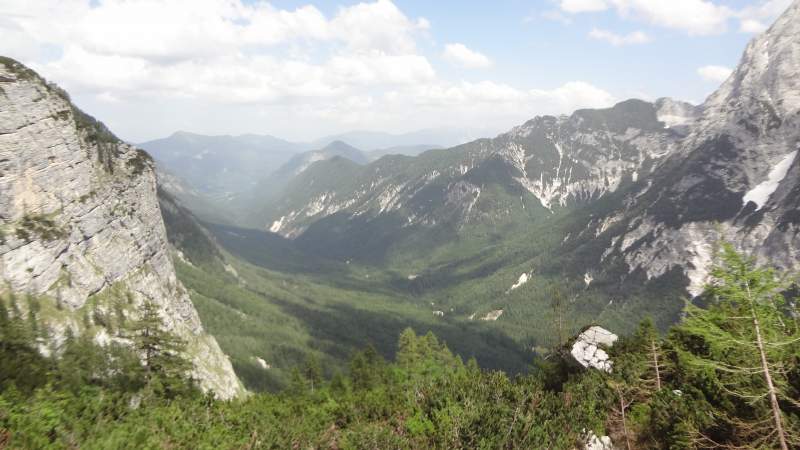 ---
My tour
For me, this was a sort of emotional tour, last time I started (and finished) a tour from Vrata valley and climbed Triglav was in 1987, in a completely different political situation. Though I was there again a few years back in my attempt to climb Razor, but I had to give up because of the rain.
This time I decided to do the climb slowly. So I spent the night in the mentioned Bivak na Rusju, see the picture below. It took me around 3 hours and 30 minutes to get there. The sign in the valley was showing 3 hours, so I was not that bad. There was no reason to push because I had plenty of time and I knew I would be sleeping there.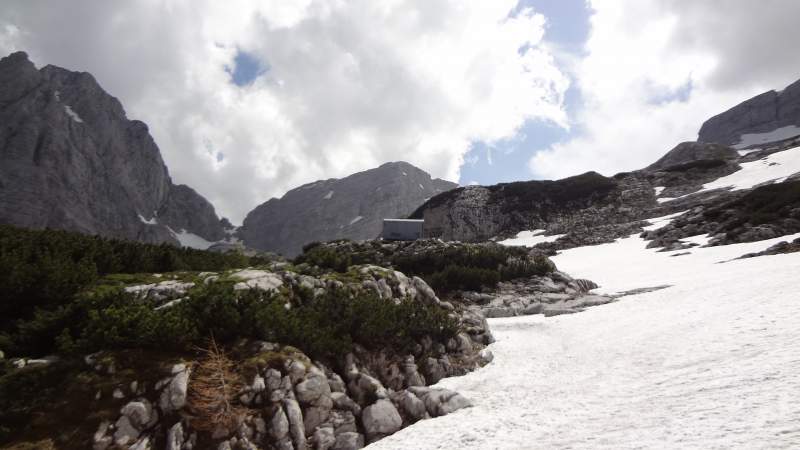 After a sleepless night with a defining noise of rain and thunders, and continuous lighting, I got up at 4 am and checked the sky. All the peaks were in clouds.
Reluctantly, I still decided to go and 15 minutes later I was on the route. I did not know the route and it was sometimes difficult to find it because it was under the snow. This consumed lots of time, and I was late at the summit, so I was not even close to seeing the sunrise.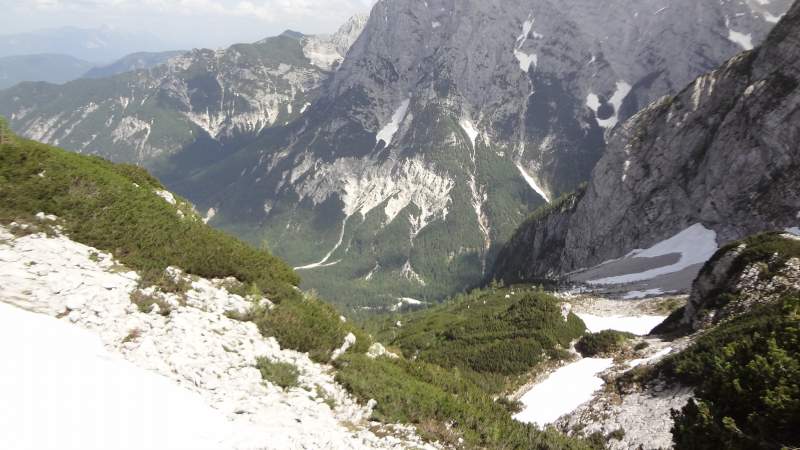 But the big part of this walk from the refuge is a nice path that goes under the rocks of Dolkova Spica, with a few ups and downs. If the sky is clear, you will have great views of Triglav and the peaks on its northeast side. Many sections were covered by snow and I used crampons. There was nobody around all the time.
When I was on the final ferrata below the summit, I saw somebody far below on the snow area. Later I noticed also two other climbers. The ferrata part is on the southwest side and this was a dark side in the morning, it was cold and windy. But the route goes around the summit and it gets to its southeast ridge, so I was happy when I saw the sun.
I mentioned views of Triglav so see how it looks from the ferrata wall. Kredarica hut is on its second lower shoulder on the left.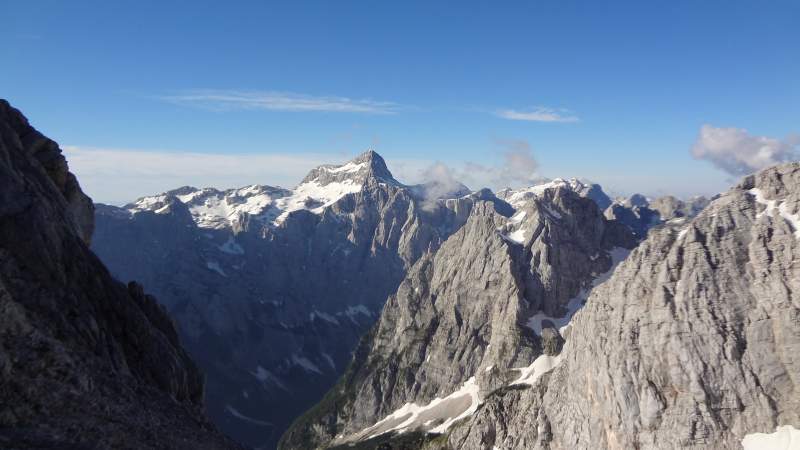 On the summit, I was enjoying the views for almost one hour before one person arrived. This was a Slovenian woman who was climbing directly from the valley. I was impressed, we talked a few minutes and I decided to leave and let her have the mountain for herself.
I have already had my morning coffee and breakfast on the summit. Later on the ridge, I met a young couple, a man and a girl, so this was all the crowd on the mountain that day.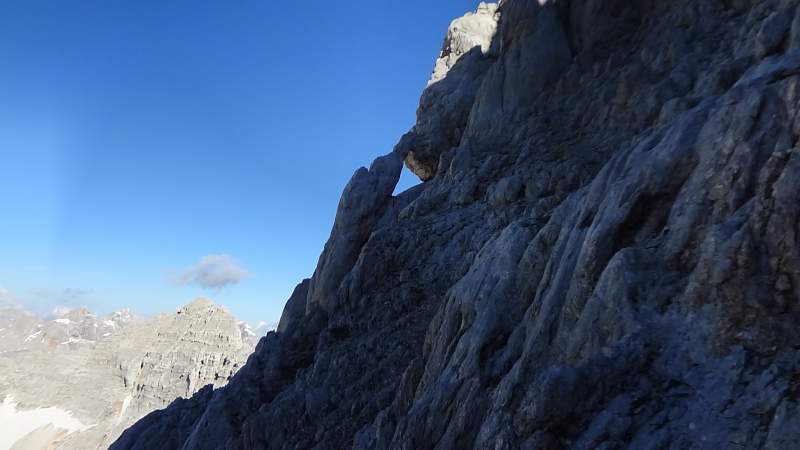 A few words about the route
The lower part is through the woods most of the time, only after Bivak you are on an open space. This was the last week of June and a big part of this upper route was under snow.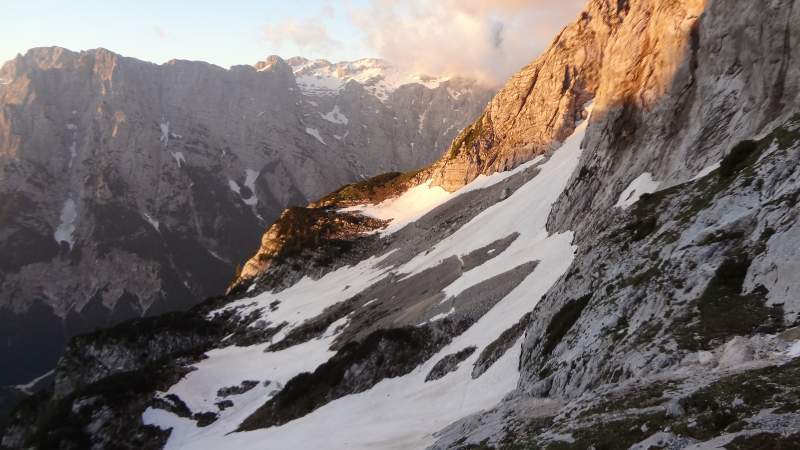 The final rock under the summit is a steep ferrata, there are several exposed places and you need to be focused there. This is a vertical wall and it was without snow. The final east ridge is very pleasant, there are a couple of places even here with some steel elements to assist you. The summit cross is big, this great mountain deserves it.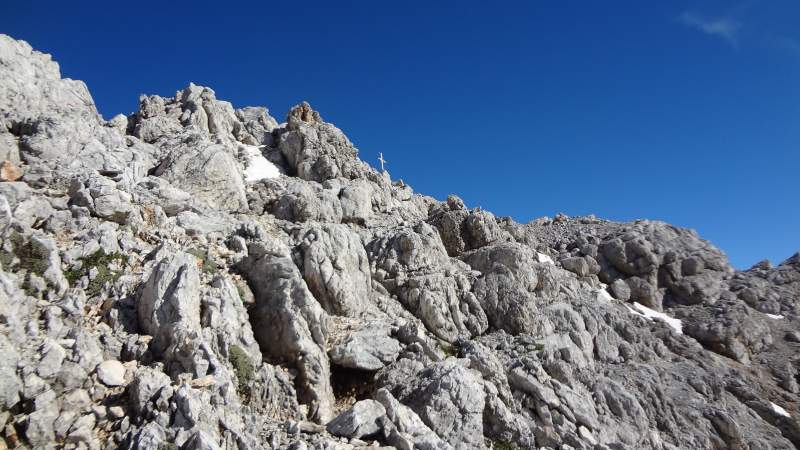 ---
Equipment
It is best to go late in summer, to avoid carrying crampons and an ice axe. In this case, the following is essential:
But I was carrying my simple 6-point strap-on Camp Frost crampons, the picture below, it was on purpose because I was testing them as well as my Salomon Quest Prime GTX boots that were perfect. I was pleasantly surprised by how great the boots performed both on the snow and on the rock. The same holds for the crampons.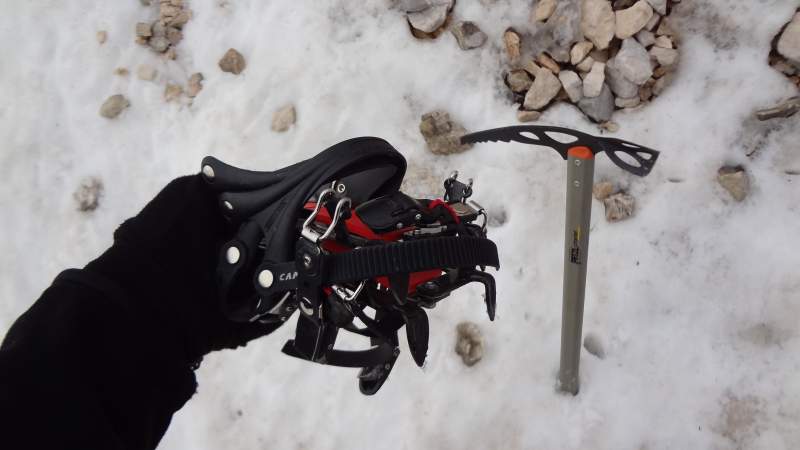 The picture also shows my Petzl piolet which I used on steeper snowfields. My Petzl Elios helmet was with me of course, I had a few places with a close encounter of it and the rock as a reminder why such a helmet is necessary at such places. As usual, I had all waterproof protection. The hat in the picture is my souvenir from climbing Mount Fuji many years ago.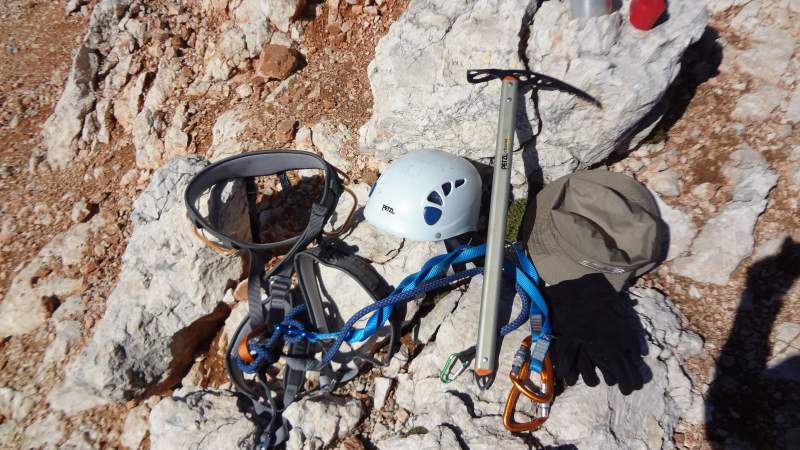 Because of the sleeping bag and an inflatable pillow, I had to use a bigger pack, so this was my Deuter Futura Vario 50 + 10 pack.
---
Water & food
There is no water on the route, unless you can count on snow. At the Bivak IV, there is a small collector of rainwater. This can be filtered and you can drink it if you have a good water filter and purifier. I have done this in the past with my Pure2Go water filter & purifier, so the water is clean after that, but the taste is not so great. So carry your own water if you wish so.
The same is with food. You will have to carry it for you. But when you descend, you can have everything at Aljaz hut.
---
Is it hard?
I guess this is personal. Perhaps it is best to compare. So I find it harder than Jalovec because the start point is lower but the ferrata parts are comparable. Also, if you go to Jalovec from Vrsic Pass or from Zadnja Trenta, you can stay at Zavetiste pod Spickom hut and this would make the Jalovec tour easier.
If you compare it with the nearby Razor, no doubt the Skrlatica climb is harder in every sense. However, all three Triglav normal routes that start from the same place in Vrata valley are considerably harder. I have walked them all and can confirm this. But you have the Kredarica hut on the way up to Triglav, so this makes the tours much more pleasant and you can split the climb in two days. I did it both ways.
So if you have climbed any of these surrounding mountains, this comparison may give you some idea about the difficulty of the Skrlatica normal route.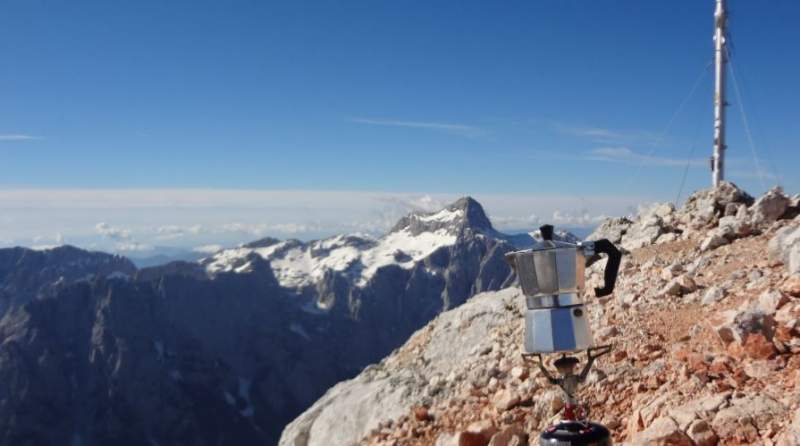 I mentioned some other possible routes, so just a few words about them. You can get to the Bivak IV area also from the direction of Pogacnikov Dom (hut). I have described this hut in my text about Razor. This hut can be reached from several different places, but only one route goes towards Bivak IV, and then it joins my described route from Vrata valley.
---
Final thoughts
In conclusion, compared to its close neighbors, Skrlatica would not win a popularity contest. But this is a part of its attraction, this is a mountain where you can feel closer to nature and enjoy its beauty in solitude. This mountain is not visible from the surrounding valleys, I do not remember seeing it from anywhere. So you have to climb a lot to see it in its full beauty.
The described normal route requires some basic knowledge of rock scramble and ferrata climbs, and it is not for people who have problems with vertigo. The rest of the mountain is for true alpinists.
If you do not know where to stay when/if you go there, no worry. I booked my reservation through Booking.com, so follow the link and you will find really affordable apartments very close to the mountains.
Thank you for reading, there is a comment box below so let me know if you have questions or comments. Subscribe to my newsletter and stay informed, the subscription form is below. Have a nice day.