---
Climbing Zugspitze was a great challenge for me because of the manner I did it. With 2962 m, this is the highest German point. It is very close to the famous tourist resort Garmisch-Partenkirchen, and the mountain is very visited by tourist.
In this text, I describe for you the normal route which goes over a glacier, and you will find all information which you need. This is the first-hand information, I climbed the route myself.
[Bach: Violin sonata No. 1 in G minor, BWV 1001 – II. Fuga]
Zugspitze is an impressive mountain and normal routes are breathtaking. I would say only the summit itself is rather disappointing. When you get there you will mix with tourists having lunch and drinking beer, and you will not feel anything of the atmosphere a real mountain summit normally offers, like moments of solitude and silence, and pure joy of being so close to nature.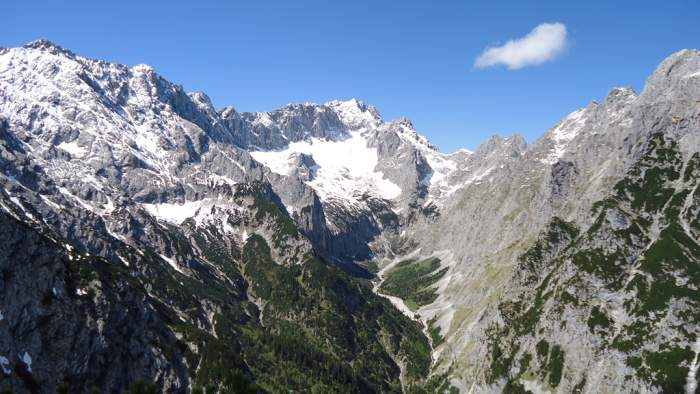 Ski lifts are there, even a railroad; yes, you are reading this correctly. According to Wikipedia, about half a million of people visit the mountain every year.
---
Routes to Zugspitze
What you lack on the summit you may enjoy on your way up. There are two normal climbing routes, the south route from Reintal and the north-east route from Höllental (this latter means Hell valley).
I did not pass the Reintal route, but what I know about it is that in summer time it requires only a basic walking gear. There are two huts on that route, Reintalangerhutte (1.366 m), and Knorrhütte (2052 m).
Far more attractive appears to be the Höllental route. You will start from Hammersbach, a village at around 750 meters above the sea. This route includes all you may wish to experience, walk through man-made tunnels, a long glacier walk, several lengthy ferratas, rock scramble, there may be icy areas along ferrata sections.
There is also a mountain hut Höllentalangerhutte (1379 m) on the way up, and most of the climbers spend a night there. You will have to pay an entrance fee (3 Euro in 2010) at the gate in Hoellentalklamm which is at around one hour walk from Hammersbach.
---
Equipment
This is for the route I followed, and for the summer time. Here is my short summary:
For the clothing in the Alps in general, please see my another text. For more details about these elements of the equipment please visit my separate page on this site.
---
My climb
For me, this was a solo climb, in 2010. I was driving for many hours from Belgium and climbed the mountain without sleeping. My starting point was the car parking at Kreuzeckbahn lift station where I arrived after 2 a.m. From there I set off at 3:30 a.m., and walked along some small road toward Hammersbach. After that, I continued to Höllentalklamm. So my starting point was at around 750 m above the sea, and I had to climb about 2200 meters of altitude.
This was hard. I was at Höllentalklamm at 4:30 a.m., and obviously, nobody was there to charge the entrance fee. Luckily the gate was not locked and I continued through many tunnels. At 5:40, I was at Höllentalanger hut, so I just continued. It was on the first ferrata section where I met first people that morning, in fact, many of them who clearly spent the night in the hut and now there was a crowd there.
It takes a time to put a harness, prepare a Y-rope and attach yourself to the cables, so there was a crowd there. After two ferratas, a long glacier walk followed, where I used crampons. The glacier part ends up in a steep rock again from where you will pass several sections with cables. This remains so practically to the summit. At several sections, the steel cable was in the ice so it was a bit tricky to attach my carabiners.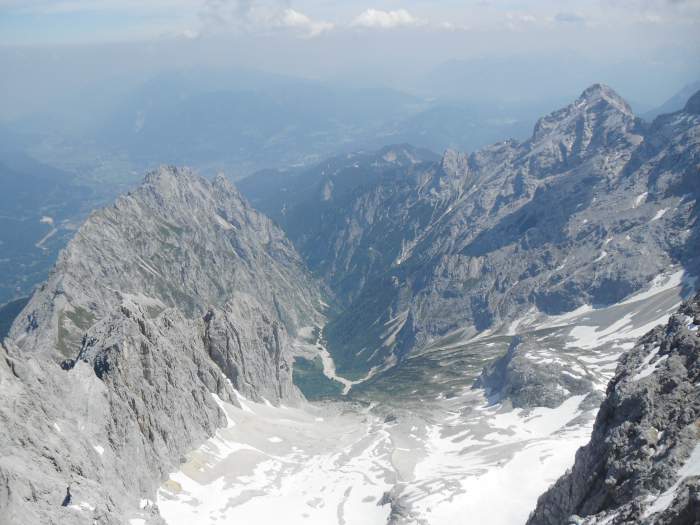 The route was rather crowded. I noticed one person was climbing without a Y-rope and harness. He was moving fast and was obviously bored waiting for his wife whose progress was slow because of a continuous process of attaching and detaching of carabiners to the cable. I would not recommend anybody going without a Y-rope, see the photos and you will realize why.
I was at the summit at 12:15. This long climb directly from the valley, I did in 8 hours and 45 minutes. I was exhausted, the day was rather hot. I used 3 liters of water for the ascent.
The summit was full of climbers, and also with many tourists. They were constantly coming by the cable-car from Eibsee far below on the north side of the mountain.
If you look for accommodation, this is not a problem in principle. But Garmisch-Partenkirchen and Zugspitze areas are popular destinations so book something in advance.
To summarize, this is an attractive climbing tour, and I am sure you will enjoy it. If you have problems with vertigo better not go that way, use the other normal route mentioned above, it is more lengthy perhaps but far different.
Here is a video I found on YouTube about climbing Zugspitze:
I hope you enjoyed the text, and if you find it useful please share it with others. Please leave your comments below. I shall appreciate any suggestion for the improvement of the site.
Once you are there perhaps you might be interested to see also these nearby mountains which I climbed as well:
---