---
The Coleman OneSource Rechargeable Heated Blanket comes with a battery included and you have 4 different heating settings.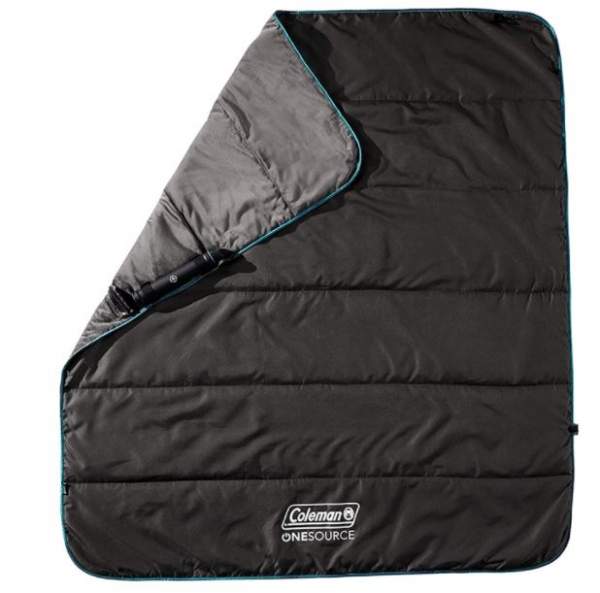 ---
Key features & benefits
Heated blanket.
Battery included.
4 Heating settings.
Incredible price.
---
What this is about
Here you have a blanket that comes with the Coleman OneSource Rechargeable Battery included. This is a 4800 mAh lithium-ion battery that works with all Coleman OneSource products, and they have many of them.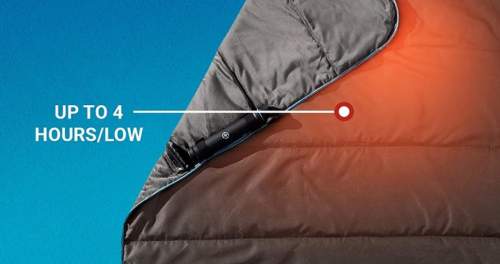 There are 4 heating settings, and they include the following based on a fully charged battery:
You have 2 hours on high (107°F, 42°C).
2.5 Hours on medium (103°F, 39°C).
4 Hours on low (96°F, 36°C).
3 Hours on pulse setting (low to high).
The blanket comes with a dual port, so you can double the times mentioned above if you add one more battery. Note also that you can use it to charge your phone as well, and this can be done simultaneously while it is heating you.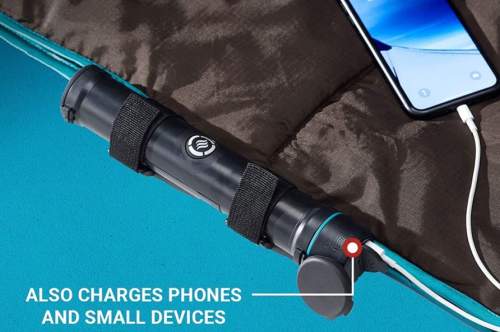 Materials
The blanket's top is a durable ripstop polyester, and it has a DWR coating. The underside is a pleasant plush fabric. You also have an integrated kangaroo pocket on the inside of the blanket. This will help in keeping your hands warm.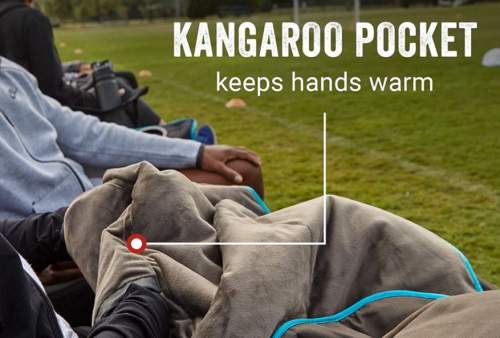 There are also toggles and loops on the sides, this is to wrap and pack the blanket for transportation. Please see a bit more in this short video:
---
Who is it for
Regarding the size, this blanket measures 60 x 50 inches (152 x 127 cm), so clearly this is not a blanket to be used for sleeping on the bed, unless this is about kids. You can use it to stay warm while sitting in the camp, on picnics, at some sports events, or at any similar outdoor activity.
Regarding the best use, the video above shows some ways of using this blanket. You can use it with or without the battery. But this is not a standard camping blanket, and there is no temperature rating provided by the manufacturer.
Regarding the weight, the blanket weighs 2.2 lb (1 kg), so it is moderately light. It is lighter that the Kelty Hoodligan Blanket but it is also smaller.
It can be rolled into a bundle that measures (L x D) 13.75 x 7.9 inches (35 x 20 cm). So you can easily transport this blanket on a bicycle and also carry in the pack. But I do not see it as an item for the trail.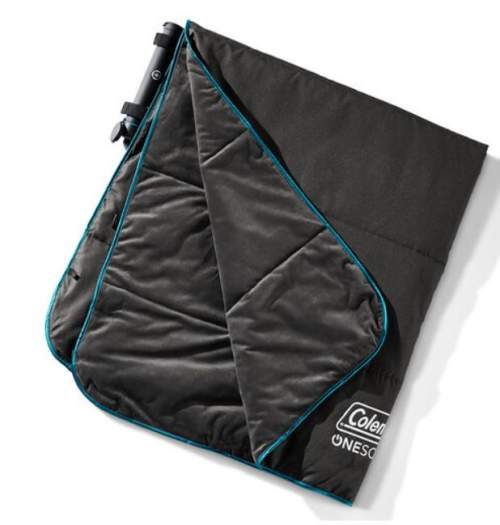 Regarding the price, I would describe it as fair for what you have here. Note that you have a bonus battery included and you can use it in various ways, not only with this blanket. As mentioned, they have many products designed to be used with the OneSource battery.

---
Specifications
Weight: 2.2 lb (1 kg).
Dimensions (L x W): 60 x 50 in (152 x 127 cm).
Packed size (L x D): 13.75 x 7.9 in (35 x 20 cm).
Warranty:
– 1-Year Limited Warranty (Blanket).
– 3-Year Limited Warranty (Battery).
---
Final thoughts & rating
So if you want something to keep you warm at a sports event or while sitting in the camp, this Coleman OneSource Rechargeable Heated Blanket is a nice options. It is light and compact and it will not take much space in the car. The bonus battery adds value and versatility because you can use it with many of Coleman's products, you will see them in the same link below where they sell this blanket.
Here you can see how I rate this blanket against my usual rating criteria. But indeed this is not a usual blanket, it is different from most of its competitors, so it is a bit hard to properly rate this product.
BEST PLACEs TO BUY:
Backcountry
Amazon
Bass Pro
Walmart
For more options, please check in my list of best camping quilts and blankets. Bookmark this site and come again, this will keep you informed because I add texts here regularly. Let me know if you have questions or comments, there is a comment box below. Have a nice day.