---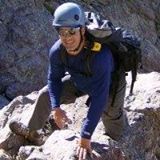 This is a text by the Guest Author: Martin Olsen.
We aimed for an early start, knowing it was to be a long day. Our intended route was to go to the summit from Vršič Pass, taking the Vršič – Jalovec (čez Jalovško Škrbino route) route. We would take the route towards Dom pod Špičkom down, rejoining the ascent path at the point marked as J4 on the map.
In the map below, the blue line is the ascent route, green the descent. The actual path was a bit different, however (shown on another map a bit further down):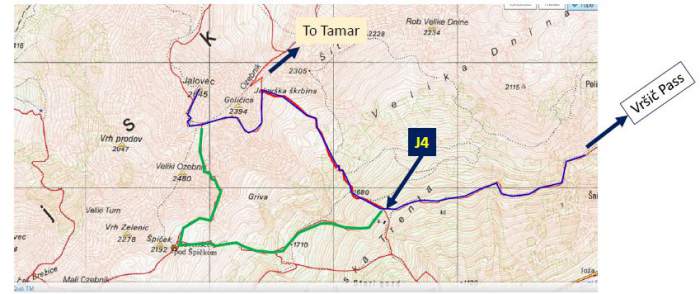 The path from Vršič is simple enough, although it does have some ups and downs which add up. The junction where the trail towards Dom pod Špičkom breaks of is marked by point J4, GPS coordinates below. We used this location to stash water (1 liter per person), which was a good idea. There are not any water sources, unless you have a filter. However, there are still snow fields which could be used for water in a pinch.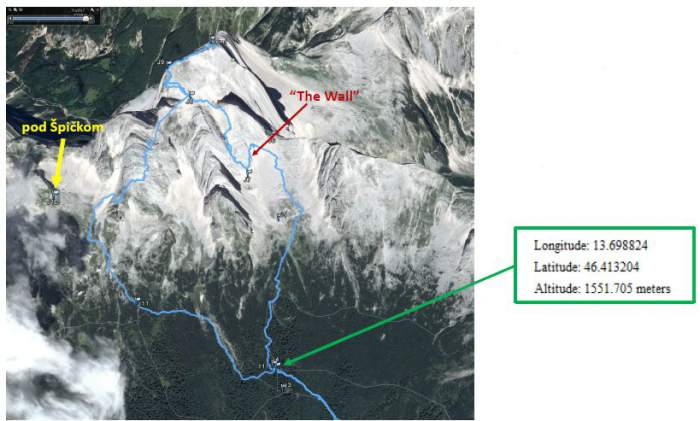 Here are some photos showing the route: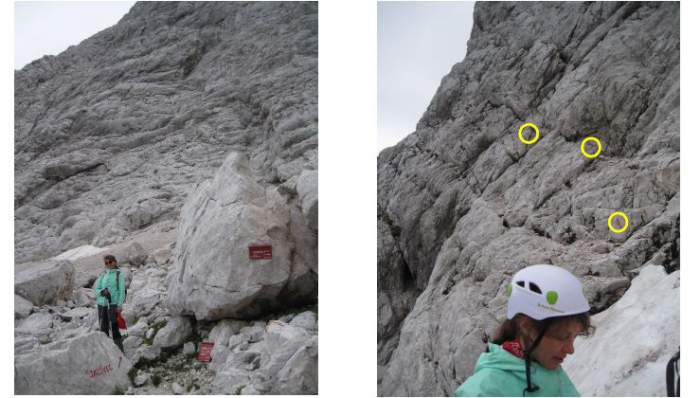 ---
Climbing The Wall
It is pretty exposed, but the pegs are plentiful, and rock is solid. I was able to secure one of the clips to pegs and then secure the other clip to Olga. A short rope (~.7m) also helped give a little more room for movement while still keeping her secured.
Most of the pegs are at an angle sufficient to keep the clip stable in the event of a mishap. It is probably not necessary, as everything is solid, but it is an idea for those who get a little terrified from exposure.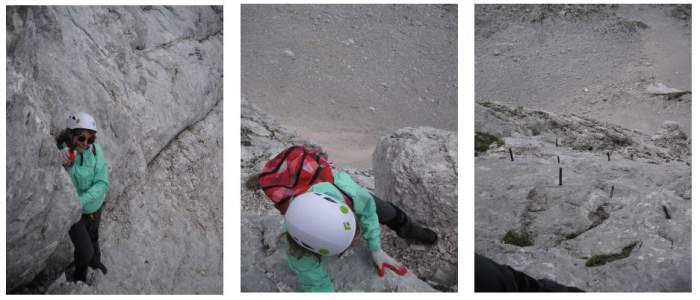 A couple of cable sections are along the wall as well. The Hribi description implies that the wall is relatively short, but it is not short. Entertaining, yes. Short, no. The blue circles show more pegs:

Once off the wall, things flatten out. It is a nice place to have a snack and catch your breath. There is still a lot of snow, but it is easy to kick steps in and make your way up to the saddle where more climbing fun awaits you: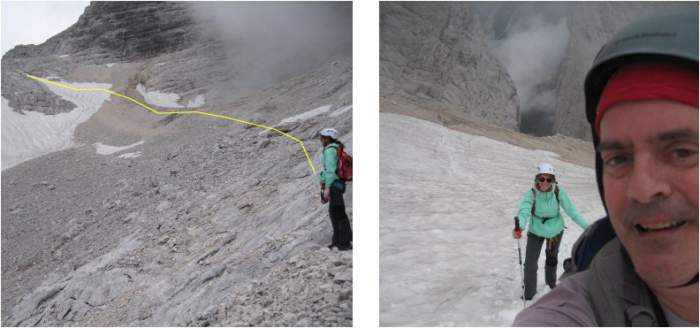 ---
Traversing to the summit
We now are traversing towards the summit ridge. It is steep, and some of the trail markers are a little faded. It is not terribly exposed and there is protection intelligently placed. But still, be sure to follow the trail markers intently. It would be very easy to get cliffed out in this section!
The summit ridge is a fun scramble, with one fairly sketchy section which appears as if it is a knife edge. Here, Olga negotiates this short section, which has plenty of air below on both sides! The views along this ridge are incredible, which is typical for these beautiful mountains.
Stunning views along the way to the summit…
---
Descent towards Dom pod Špičkom hut and back to Vršič
The descent towards Dom pod Špičkom hut is fairly steep (and long) but technically not difficult at all. I would recommend this route for the descent as The Wall would be a much more tricky way down. It would be doable, but this way was much easier, and besides, I prefer doing loops as opposed to "there-and-backs".
We can see the Dom pod Špičkom (yellow circle), but the trail back to Vršič does not take you there. It would be a short detour, however.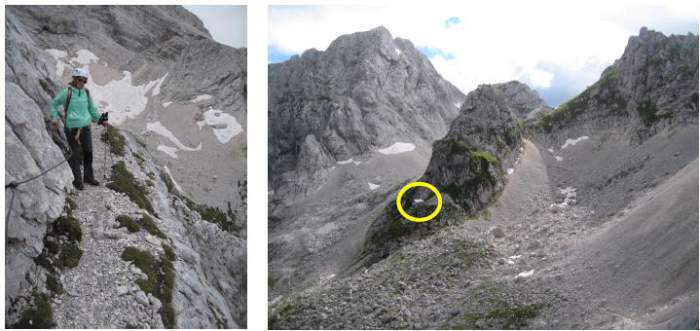 Here below is the junction for the return to Vršič or the last bit of path to Dom pod Špičkom. The trail back is well marked and easy to follow. It is long, however, and after the days climbing our feet were already begging for mercy.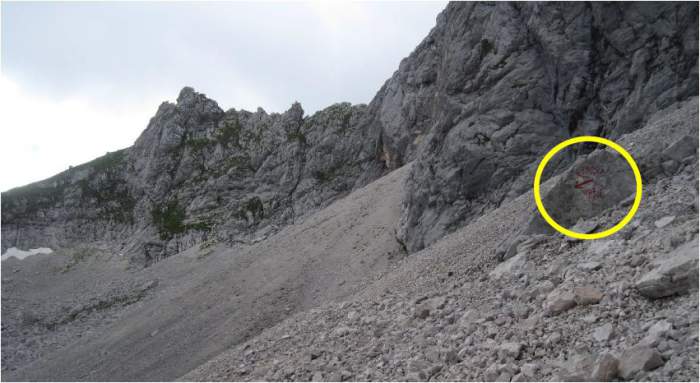 As you approach the J4 point (about 150 m from it), you will come to a fork in the trail. You will need to take the left side, which goes very slightly uphill. To go right may get you back to Vršič, but I am not absolutely certain of it.
---
Summary
Overall, it was a gorgeous hike, and the weather cooperated fully. We had a small amount of drizzle and mostly cloudy skies. Had it been blue skies and sunny, I suspect we would have eaten a lot of snow. We took 3.5 liters of water each (stashing one liter each at J4) and that was just about right.
We did not go very fast through the climbing sections and had several relaxing breaks. But still, it was a long day, almost 14 hours on the trail. I would recommend an early start for even fit hikers. A map with our tracks and waypoints is below.
Martin and Olga

---
I wish to thank Martin and Olga for this text. I am sure now you can get a feeling about the route and decide if it is too challenging for you or not. I can't wait to get there again. Note, there is yet another text by Martin, about Rjavina tour, so have a look. I myself climbed Jalovec from the south side, so please check my story here.
---