---
The OLPRO Knightwick 3 Berth Tunnel Tent is a 2 room tent with a huge waterproof rating and ventilation options that make it suitable for a 3-season camping.
---
Key features & benefits
Tunnel type tent.
2 Rooms.
2 Doors.
Huge waterproof rating.
Great price.
---
What is in the name
This Knightwick 3 tent has been on the market for many years and it has been modified a few times. Just to know, on the OLPRO site it is under the name OLPRO Knightwick 2.0S 3 Berth Tent, so this is a version with a fully sewn-in shell floor.
The tent is a 2-room structure supported by 3 loops that give it a typical tunnel-shape profile. Tents with such a design are usually not freestanding so this is the case here. You have to stake it properly.
The floor plan and some important dimensions are given in the picture below. The area on the right is the inner tent within the shell tent. So this part is a two-layer area. The shell creates a large living area which is on the left in the picture, and this part is a single-layer zone.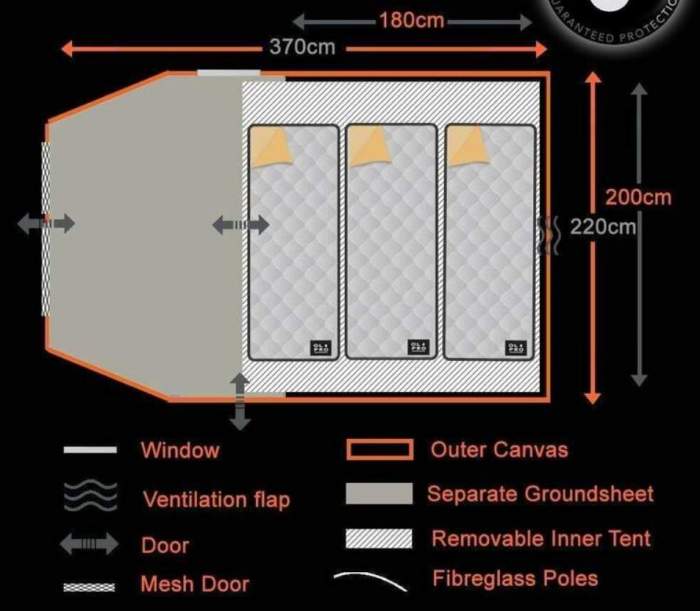 The inner tent attaches to the shell, you can remove it and use the shell alone, this would be a single-layer and one-room configuration. Note that the tent is quite low, you have 51.2 inches (130 cm) peak height here.
The doors & windows
There are 2 external doors here and they are both double-layer type with a full-sized zippered mesh and zippered panel for privacy and protection. The pictures below show some details, so you see how you can roll up both layers and fix them above the doors.
You can also create an awning with the panel of the front door, this is because of its dual zippers that run on the sides. As you realize from the picture, the covered space is not really large enough to accommodate a camping chair.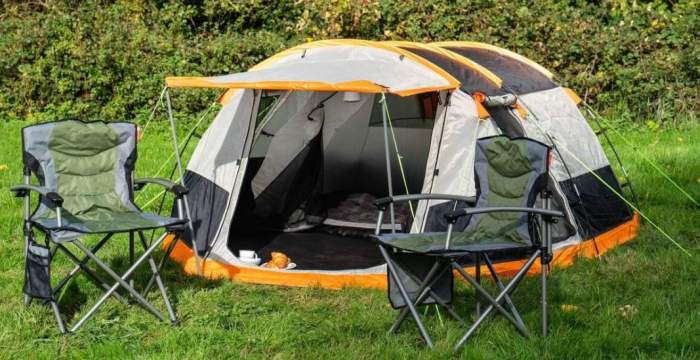 There is also a gigantic D-shaped inner door and this is again a full-size double-layer structure. It is a bit rare to have such a design on the inner doors, so this is an extra luxurious feature here.
The tent has one window on the side in the living room. It is with an external zippered panel for privacy.
Materials
The poles: You have 3 of them and this is a shock-corded fiberglass. Note that the two straight poles used for the awning are included in the package, and this is steel.
The fabric: I would start with the floor because you have the shell with its own sewn-in and sealed bathtub type floor. But the inner tent also has its own floor, so the sleeping area has two layers on the ground. The shell is a ripstop polyester with an impressive waterproof rating of 5000 mm. You will never need more. There are also lantern hanging hooks in both rooms.
Ventilation
You have already seen its excellent 2-layer doors, so these are huge mesh areas that allow for plenty of air circulation. They have added a large rear vent that looks like a window. This works excellent with the shape of the tent. There is a large gap between the inner tent and the shell, so this allows for air circulation and it helps in reducing condensation.
What I miss here are floor vents. They are not needed as long as the sky is clear, but in the case of rain you have to use panels on its doors and the window. So floor vents would make the atmosphere much better in case of extended hours with rain.
Please see a few more details in this short video:
---
Who is it for
Regarding the best use & climate, this is a great 3-season tent, it is low profile so it should perform well in windy places, and it has a great waterproof rating. The doors are closable if you feel cold, and you have plenty of ventilation in a warmer and dry environment.
Regarding the size, the tent is officially for 3 people, and this applies mainly to its inner area. But if necessary, the living room can accommodate 2 more sleeping pads on the ground, and this area is also fully protected.
They do not provide the number for the area, note that the base is not fully rectangular. My rough estimate is that it offers around 77.5 ft² (7.2 m²) in both rooms, and this is plenty of space for 3 people and their gear. So I have plenty of reason for including it in my list of best 3-person tunnel type camping tents.
Regarding the weight, it may look heavy for a 3-person tent, it weighs 13.2 lb (6 kg). But see its size, the area/weight ration is 1.2 m²/kg, so in my view this is a lightweight tent and I rate it high, see below. The packed size is 23.6 x 7.8 x 7.8 inches (60 x 20 x 20 cm), so again, for its overall size this is very good.
Regarding the price, this is an incredibly affordable tent, a great value for the money. You can follow the links below and check for its updated price.
---
Specifications
Official capacity: 3 people.
Weight: 13.2 lb (6 kg).
Dimensions (L x W): 145.7 x 86.6 in (370 x 220 cm).
Floored area: around 77.5 ft² (7.2 m²).
Peak height: 51.2 in (130 cm).
Packed size: 23.6 x 7.8 x 7.8 in (60 x 20 x 20 cm).
---
Final thoughts & rating
In summary, this OLPRO Knightwick 3 Berth Tunnel Tent is well-built and its organization of space is very good. It can accommodate more people than what its official capacity suggests. The tent is easy to use and one person can make it ready in 15 minutes or so. The price is simply excellent, so if you do not want to spend much and still have a decent tent, no need to look further.
Below you can see how I rate it against my usual rating criteria so that you can easily compare it with other items of this type:
BEST PLACEs TO BUY:
For more options, please check under the category Tents for 3 People. Bookmark this site and come again, this will keep you informed because I add texts here regularly. Let me know if you have questions or comments, there is a comment box below. Have a nice day.