---
The Zempire Monstamat Twin Sleeping Pad is a double wide thick and pleasant outdoor bed with a huge R-value that makes it suitable for any weather conditions.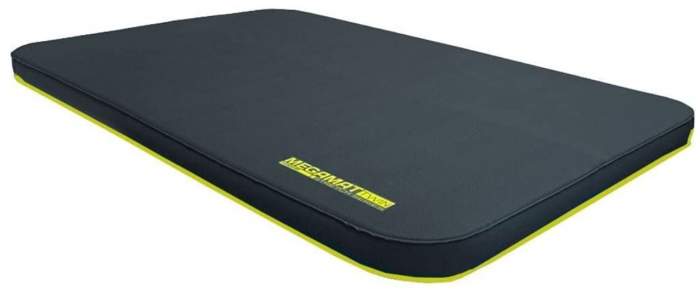 ---
Key features & benefits
Self-inflating.
Huge R-value.
Great size.
Carry bag.
---
What is in the name
This Zempire Monstamat Twin Sleeping Pad is self-inflating, very large, and equipped with what they describe as a 360° double way high-volume valve. This means it can be rotated so that it is used both for inflation and deflation, and it is very wide for quick inflation and deflation, see below how it looks.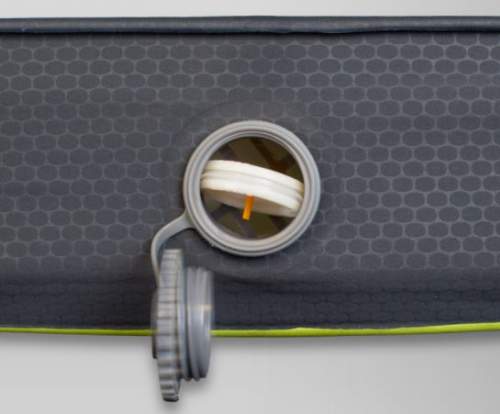 Insulation & materials
There is no separate insulation here, the pad itself is insulating because of the open-cell foam, the trapped air, and its air-tight shell. On the manufacturer's site the R-value is 10.5 and at REI the number is 9.5.
The foam is with what they describe as a cross-cored construction. This means that the weight, packed size, and inflation time is reduced with such a design that includes wide circular channels inside of the foam.
The shell fabric is different on the two sides, so the top is a 30D super stretch ripstop polyester and the bottom is a 75D poly pongee. This is a material that can be described as quiet, so the noise is reduced when users move, this is important when you share a pad with somebody.
The carry bag (shown below) is a 190T polyester pongee. Packing it in the carry bag needs some work because of its size and foam, so you might need a partner and do deflation a few times. This means roll the pad from the end without the valve while keeping it pressed. Then unroll and repeat, and then fold it in half the width and roll again while keeping it pressed with your knees.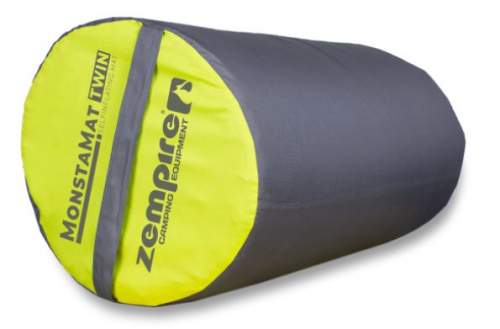 Warranty
They claim that all their sleeping pads are covered with a 2-year warranty. This means they will repair or replace this product, should it fail due to faulty materials or manufacturing.
Please see a bit more about the pad in this short video:
---
Who is it for
Regarding the size, you have seen the word Twin in the name, but strictly speaking, this is more that twin. In fact, the width is what is normally described as a double-wide pad. It measures 79.1 x 52 inches (201 x 132 cm).
To realize what this means, it is longer than the Exped MegaMat Max 15 Duo Sleeping Pad and they are of the same width. It is also wider that the KingCamp Luxury 3D Double Self-Inflating Sleeping Pad. So this is a very long pad and wide enough for two users.
The thickness is also very good, you have 3.9 inches (10 cm) of a supportive foam. This cannot be described as ultra-thick but this is good enough even for side sleepers.
They describe it as a 3D construction, and the meaning of this is that the foam can expand fully, and the pad has vertical side walls. The picture shows this quite clearly.

Regarding the best use & climate, you have already seen about its impressive R-value. You will never need more, and this pad will insulate you from the cold ground regardless of how cold it can be. I have added it to my list of best cold weather sleeping pads.
Observe also its width, so not every 2-person tent is wide enough for such a pad.
Regarding the weight, the pad can be described as heavy with its 13.3 lb (6.03 kg). When packed in its carry bag, it measures (L x D) 27.6 x 13 inches (70 x 33 cm). For a double-wide pad this is quite good. But in any case, you will need a car for transportation.
Regarding the price, it is quite steep, you will see this in the links below. But this is a quality product, it is for two people, and it comes with a good warranty.
---
Specifications
Type: self-inflating pad.
Weight: 13.3 lb (6.03 kg).
Dimensions (L x W): 79.1 x 52 in (201 x 132 cm).
Thickness: 3.9 in (10 cm).
R-value: 10.5.
Packed size (L x D): 27.6 x 13 in (70 x 33 cm).
---
Final thoughts & rating
So this Zempire Monstamat Twin Sleeping Pad is impressive with its size and its R-value. This is a pad for two adults, and for year round use no matter how cold it may be. Being self-inflating it is easy to get ready, but packing it needs some work. Fully recommended.
Below you can see how I rate it against my usual rating criteria. I use them consistently for all the pads here in the site so that you can easily compare.
BEST PLACEs TO BUY
For more options, please check under the category Sleeping Pads, you will find them many. Bookmark this site and come again, this will keep you informed because I add texts here regularly. Let me know if you have questions or comments, there is a comment box below. Have a nice day.